R.W. Holland's line and suction heaters are used in heating heavy viscous fluids, such as #6 fuel oil, heavy crude, and more. Suction Heaters heat the fluids directly from the tank to temperatures suitable for pumping. Line heaters, mounted in line, heat the fluids to processing or burner temperatures. Steam is generally the heating medium, however, hot water, hot oils or heat transfer fluids can also be used. Learn more about how R.W. Holland can meet your needs for line and suction heaters below:
Suction And Line Heater Construction
R.W. Holland's line and suction heaters are fabricated in accordance with the A.S.M.E. unfired pressure vessel code and T.E.M.A. standards. The tubesheets of these heaters are fully studded, allowing for the removal of the channel for tube inspection without disturbing the shell side closure. The benefit of this design is that it eliminates the need to drain tanks in the case of suction heaters or piping in the case of line heaters.
Pressure-Temperature Ratings for Line and Suction Heaters
Standard Ratings are 150 psig at 500°F for both the shell and tube side of line heaters and the tubeside of suction heaters. The shellside of the suction heater is not pressure rated since there is no pressure in the storage tank. Under normal circumstances, the inlet end of a suction heater is not flanged, preventing the hydrostatic testing of the shellside. However, both line and suction heaters can be designed for higher pressures to meet specific applications.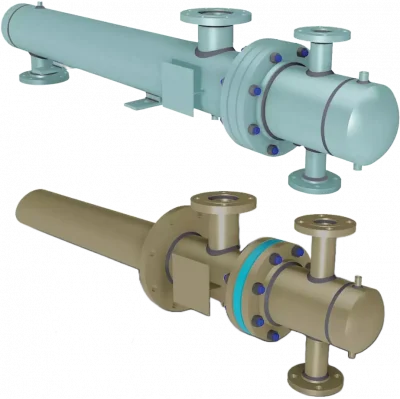 High Efficiency Suction And Line Heater
Both suction and line heaters obtain high efficiency. This level of efficiency is made possible because line and suction heaters both utilize the R.W. Holland Petrofin Fintube. This is a longitudinal fin tube with the fins resistance welded to the tube. Several different tube and fin configurations are utilized to obtain the most economical selection for a specific application. The use of fin tubes keeps the metal temperature lower resulting in less fouling, and therefore, extending the period between shut downs for cleaning.
R.W. Holland: The Customer-Centric Line and Suction Heater Provider
In everything R.W. Holland does, we make our customers' experience working with us the highest priority. By meeting specific suction and line heater needs that our competitors cannot, our company is proud to be out-performing their competition. With a widespread reputation for quality service, R.W. Holland is adaptable to our customers' needs and is able to make changes on the spot thanks to the minimal red tape and maximum flexibility. When you require a partner that will put you first, contact R.W. Holland.