Industries Served: Petrochemical
Manufacturing heating transfer products for the petrochemical industry has always been the heart of R.W. Holland. We take pride in our reputation as an industry leader that consistently ensures that our oil , gas and chemical customers' needs and requirements are fully met.
When Is a HPHX Needed in the Petrochemical Industry?
At R.W. Holland, we understand that our petrochemical customers often come from different sectors of their industry, from gas processing companies to onshore oil recovery companies. Because of this, these customers often have varied needs regarding heat exchangers for a multitude of operations.
The HPHX's unique design provides true counter current flow resulting in increased heat recovery and a tighter temperature approach. R.W. Holland specializes in providing customers with products that are tailored to suit precise application requirements. Explore the way our equipment can serve your specific needs for the oil and gas industry below:
The gas processing industry is dependent on high quality heat transfer equipment. This equipment helps our customers achieve accurate temperature ranges along with required viscosity levels.
The Hairpin Heat Exchanger is a great choice for our gas processing customers. As a product that operates with a true counter current flow, a HPHX permits the extreme temperature cross industry. Hairpin heat exchangers are known for being highly efficient and dependable.
Hairpin heat exchangers are an excellent choice for many offshore applications. The compact U-tube design uses less of the limited real estate on offshore platforms. They are modular and can be stacked using the standard exchanger supports. With the smaller shell sizes and true counter current flow they can meet more extreme temperature cross and higher pressures with less weight. The U-tube design also allows for thermal expansion without the use of expansion joints. Expansion joints can be dangerous in a tube rupture scenario. With the thermal gradient oriented thru the tubesheet as opposed to across the tubesheet, as with multi-pass shell and tube exchangers, there is less stress put on the tube-to-tubesheet welds.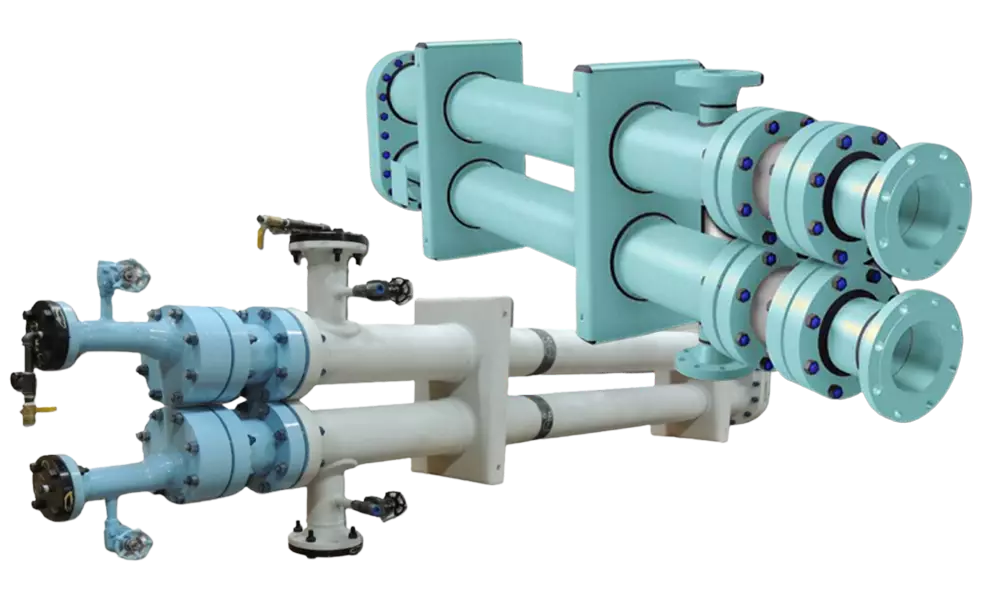 Even though real estate is not as limited for onshore operations as it is with offshore operations, the compact design and versatility of the hairpin heat exchangers can provide a great fit for some applications. They are often used in upstream, downstream, and midstream operations. These pieces of equipment can provide safe and cost-effective solutions for high-pressure and high-temperature services. With the smaller shell sizes and tube counts, they have provided good solutions for high-viscosity and slurry services. The cleanability of hairpins is optimized due to large U-bend center-to-centers, and with fewer tubes, it is easier to clean the shell side of tube bundles as well.