Dependability is designed into our Hairpin Heat Exchangers (HPHX), proven by year after year of faithful service. As an ASME Code certified manufacturer, R.W. Holland offers standard designs, as well as custom designs to meet clients' specifications.
We meet design requirements for high pressure, high temperature, low temperature, and various alloy materials. We are proud to be a U.S. manufacturer producing Hairpin Heat Exchangers that can handle temperatures ranging from 300 up to 1400 degrees Fahrenheit. In addition to producing hairpin heat exchangers, R.W. Holland also provides our customers with excellent technical support, parts and repair products.
Why Choose a Hairpin Heat Exchanger?
Because Hairpin Heat Exchangers are designed to thermally expand without the use of expansion joints, these units are capable of withstanding conditions that would otherwise cause tube weld failures in multi-pass Shell and Tubes exchangers.
Although Hairpin Heat Exchangers may have a larger footprint than Shell and Tube and sometimes more upfront cost, these units will provide you with decades of reliable service—naturally designed expansion eliminates problems, such as the tube weld cracking which leads to cross-contamination of services.
Explore More Hairpin Heat Exchanger Advantages:
Hairpin Heat Exchangers operate in true counter-current flow permitting extreme temperature cross.
These units are economically adaptable to various services.
With true counter-current flow, hairpins can meet process requirements in a single HPHX where a multi-pass Shell and Tube would require multiple exchangers in series.
Resistance-welded longitudinal fin tubes are utilized for some services to provide more heat transfer surface in a more compact design. 
Hairpin Heat Exchangers are available in a wide range of sizes to meet most process requirements.
Multiple sections can be shipped completely assembled and ready for process piping connection.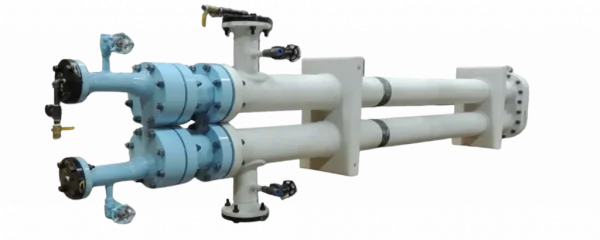 Glycol Service for Hairpin Heat Exchangers
Glycol service is a standard process for Hairpin Heat Exchangers. In a gas conditioning skid, the glycol is used to remove water from the natural gas. In the hairpins, the hot lean glycol is cooled by the rich glycol returning for the Contactor. With the true counter-current flow in the hairpin heat exchanger and the U-tube design, some of the skids can use only one hairpin heat exchanger where two U-tube shell and tube exchangers would be required due to the large temperature cross.
The Holland Petrofin Patented Standard Closure
The most efficient seal on the market.
Guaranteed against interstream leakage.
Allows for more tubes in a given shell size resulting in more heat exchanger for the same competitive dollar.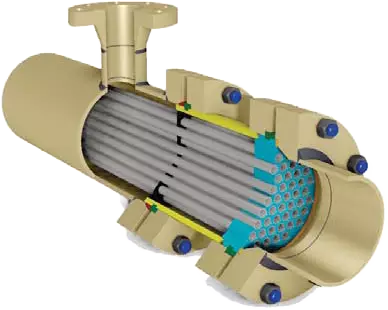 Separated Head Closure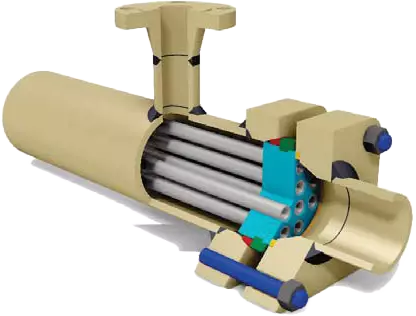 Standard Closure
The Holland Petrofin Patented Separated Head Closure
Contains separate flanges and bolting for each sealing surface.
Can handle all applications in severe service.
Recommended for pressures above 2000 psig, cyclic service, low-temperature service, extreme temperature differentials and hard-to-hold fluids.
Explore Our Hairpin Heat Exchanger Rental Options
When new equipment or a replacement bundle is going to take too long…think RENTAL. The R.W. Holland rental program is great for temporary use when your heat exchangers experience downtime or are in need of emergency repairs. Rental units are stackable, and for a larger service, can run in parallel.